Authentic Chicago-style deep dish pizza isn't something you can find around every corner in the Cincinnati area. Luckily we know a place that does it better than anyone in the area. Bourbon House Pizza was started by Chicago transplant, Mary Brandstetter who dreamed of bringing a childhood classic to the Northern Kentucky area.
The Interior
The interior is warm and cozy with a feeling with decorations from Italy, Chicago, and of course, Kentucky. In this cozy restaurant, you will find hanging greenery, tile floors, and bright yellow walls. On each wooden high-top table, you will find salt, pepper, parmesan, chili flakes, and a candle.
---
The Menu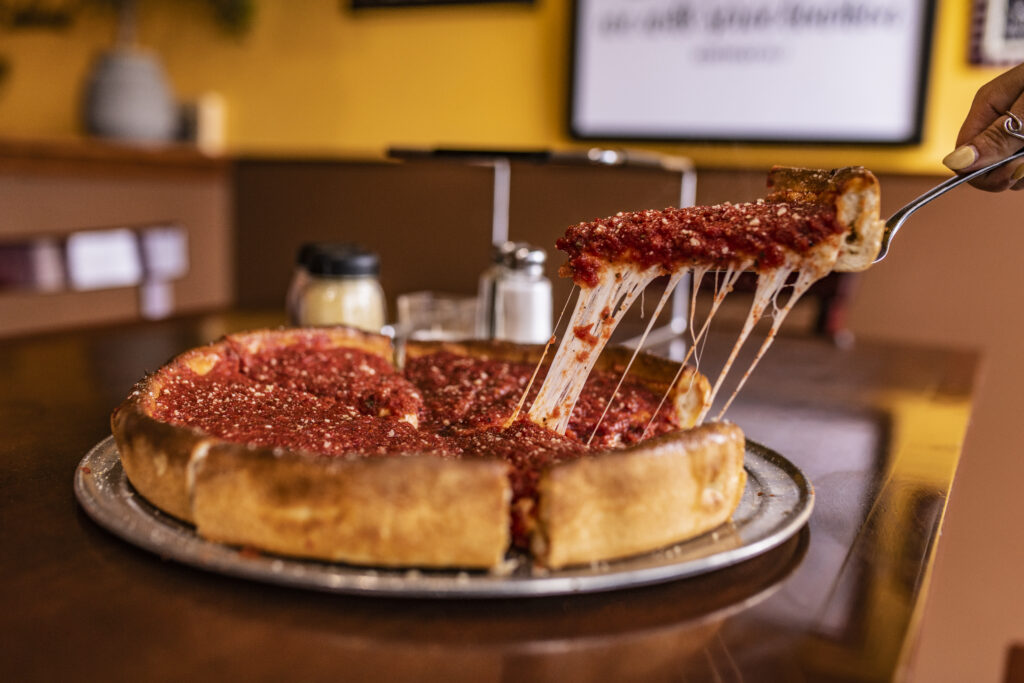 The Bourbon House Pizza menu takes your favorite pizzeria food items and multiplies those options tenfold. It has everything from appetizers, salads, calzones, hoagies, pasta, desserts, and of course, mouth-watering pizza. Adding to this extensive food menu is a drink menu that runs just as deep with several options of bourbon, wine, beer, and more.
---
The Details
Mary and her team take pride in their product and have committed to the authenticity and freshness that her hometown pizzerias gave to her.
Address: 7500 Oakbrook Dr, Florence, KY 41042
Phone: (859) 282-7999
Hours:

Monday 3PM – 9PM
Tuesday 3PM – 9PM
Wednesday 3PM – 9PM
Thursday 11AM – 9PM
Friday 11AM – 10PM
Saturday 11AM – 10PM
Sunday 12PM – 9PM